Okay guys...who here doesn't love to smell good?.... I know I do! There's nothing more sexy than leaving your fragrance trace behind as you walk, and when you get a compliment.. BONUS!
There are hundreds of fragrances out there to choose from- yes it can be a little overwhelming, but it's also really exciting. In my opinion, a fragrance choice is like a statement. It's a scent that, in a way you make your own- it's a signature scent. I used to wear Lolita Lempicka for years for example, now when old friends smell it at a local Boutique or on another person they usually tell me about it and how they thought of me, so that's always nice.
When I am asked about perfumes, I like to say that for me its like the cherry on top on the sundae. Sounds a little cliche but, it is true. It's the perfect finishing touch to getting ready in the morning. I have picked out a few of my latest favourite including my all time favourite below, which I'm sure it won't disappoint you ladies.
1.
Lolita Lempicka
Official product details from Lolita Lempicka:
Elegant floral notes, a mingling of Ivy, Aniseed and Violet. Utterly delicious aromas composed of Amarena Cherr, Vanilla, Praline and Tonka Bean. Sensual touches are brought by Iris and Musk.. Liquorice blossom is born. In its trail, this gourmand floral is eternally intoxicating. You are now ready to be desired.
2. Roberto Cavalli- Serpentine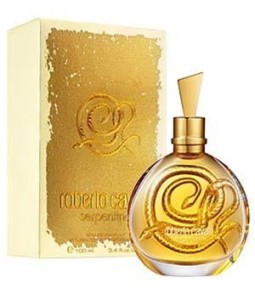 Official product details:
Serpent, the signature symbol of

Roberto Cavalli

, is feminine, sensual and dangerously charming. The composition is built around mango blossom known in Hindu legends as the food of Gods. According to a Brazilian legend, snakes eat mango blossom. This floral-oriental composition opens with sweet mandarin notes and mango blossom. The heart introduces exotic Tiare flower and rich scent of Frangipani blossom, refined by violets and black pepper.
3.
Yves Saint Laurent- Black Opium
Official product details from Sephora:
Black Opium is the new highly addictive feminine fragrance from Yves Saint Laurent. Fascinating and seductively intoxicating, the opening notes of adrenaline-rich coffee and the sweet sensuality of vanilla recline into the softness of white flowers for a modern, young, and vibrant interpretation of addiction. Get your dose.
Notes:
Coffee Accord, Orange Blossom, Cedarwood Essence, Patchouli Essense.
Style:
Addictive. Floral. Energetic.
4.
Vera Wang- Lovestruck
Official product details from Kohl's:
This women's Vera Wang fine fragrance is the interpretation of love, playing off the modern twist of Romeo and Juliet.
Floral notes, pink guava, mandarin, tuberose, lotus blossom and sheer musk.
5.
Dior- J'adore
Official product details from Sephora:
Discover J'adore, the iconic fragrance that embodies the ultimate expression of femininity and luxury. Like a veil of sensuality, J'adore is a magnificent floral bouquet of exquisite Comoro Islands ylang-ylang, Damascus rose, and sambac jasmine. For the confident, sensual woman who celebrates her femininity—this is Dior's golden girl.
Notes:
Ylang-Ylang Essence, Damascena Rose Essence, Sambac Jasmine Absolute.
Style:
Feminine. Luxurious. Sensual.
6.
L'Occitane- Neroli & Orchidee
Official product details from L'Occitane:
A tantalizing and lovely fragrance, Néroli & Orchidée Eau de Toilette blends the scents of two precious white flowers in a beautiful harmony. A heart of radiant neroli essence from the Mediterranean is blended with caressing white orchid absolute from Madagascar. Fruity bursts of orange and heart notes of peach complete the sensuous bouquet, which lingers delicately on the body throughout the day.
I hope you ladies enjoyed!
xoxo,